Sundays that begin with brunch are the best. So, Sundays that begin with all-you-can-eat brunch are off to a fabulous start.
On a Northern Michigan foodie road trip in May, my friend Danny and I made our first stop of the day at Hofbrau in Interlochen.
The town is known for its world-renowned Interlochen Center for the Arts, a summer camp and year-round school for artistically talented youth. It's about 14 miles (about a 25-minute drive) from the Michigan cherry capital and summer vacation destination, Traverse City, and about a 35-minute drive from the Sleeping Bear Dunes National Lakeshore.
Hofbrau Brunch Buffet: The Food
Hofbrau's Sunday brunch is an expansive buffet spanning three rooms of the restaurant. One buffet table features your typical, hearty American fare. If you want scrambled eggs and breakfast potatoes, start here. Near the bar you'll find two more tables loaded with salad fixings, side salads, and so many pastries, desserts and fruit. Sound like a lot of food? We aren't done yet. In the next room, you'll find a carving station serving prime rib, an omelette station and Belgian waffles with a toppings bar. Danny and I each filled four plates!
Other than the scrambled eggs and omelette, everything I ate was vegetarian. A Hofbrau brunch won't necessarily be healthy or low calorie, but diners avoiding gluten, dairy or meat could easily fill a plate or four.
The food is pretty generic of a breakfast buffet, and nothing really stood out as a must-have dish. I probably wouldn't drive out of my way to eat brunch here again, but as part of a day trip Up North, it was a tasty (and very filling) diversion. If I was vacationing in a nearby city with a group that had diverse tastes and dietary needs, I'd likely keep Hofbrau's brunch in mind.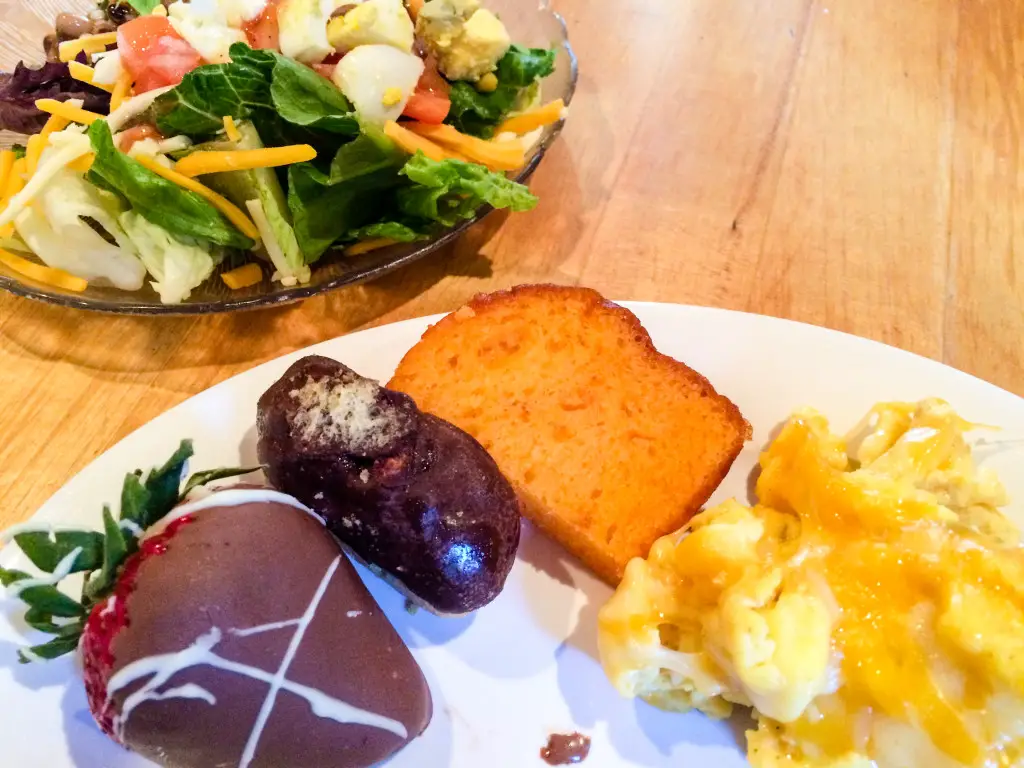 Though no food was a true standout for me, my favorite of my four plates was a made-to-order omelette stuffed with cheese and veggies and a Belgian waffle that I topped with strawberries and the hugest dollop of whipped cream. Chocolate waffles were also available, and these two stations are conveniently side by side.
Of all the foods I ate, I'd recommend the cheesy scrambled eggs, potato salad, that whipped-cream-covered Belgian waffle, and pretty much the entire dessert and pastry table's offerings. Definitely save room for mini cinnamon rolls, mini eclairs, chocolate-covered strawberries and that sweet orange bread!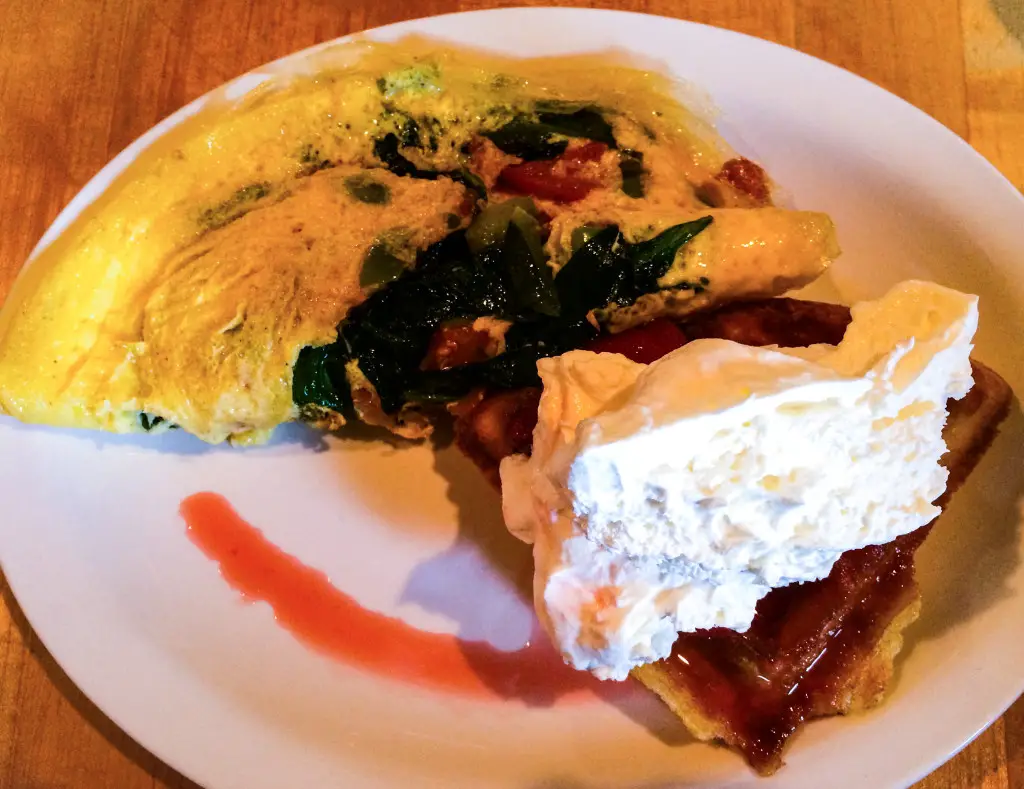 Hofbrau Brunch Buffet: The Drinks
The buffet includes your choice of a beverage. Sadly, adult beverages are not included in the buffet price nor did they seem prevalent at this brunch. I stuck with coffee, but I'm sure if you wanted something stronger, this bar, stocked with 52 beers on tap, could handle it.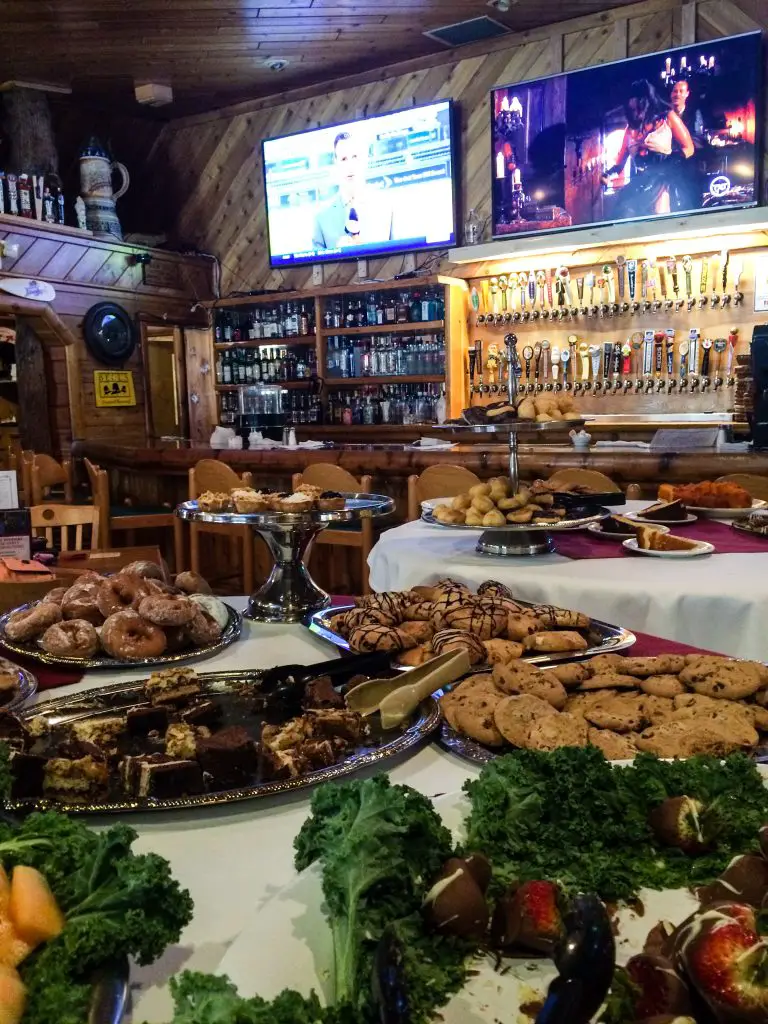 The beer list includes well-known imports and a load of Michigan craft beers. Michigan breweries — Founders, Bell's, Short's, Arcadia, Jolly Pumpkin, New Holland, Oddside, Atwater, Griffin Claw — are well represented on the double rows of tap handles. So, if you don't make it here for Sunday brunch, you could make a pit stop at Hofbrau for a microbrew on your way to the Northern Michigan lake towns.
Hofbrau Brunch Buffet: The Service And Ambiance
Hofbrau is a rustic, casual restaurant decorated with biersteins to match its German name. My only issue was that the tables were pretty close together where we were seated, which was a bit obnoxious when I had to continually apologize to my neighboring table each time I returned with a plate or got up for another. During brunch, our only interaction with our server was for our initial drink order, refills and to pay, but the service we experienced was pretty friendly and efficient.
While this isn't the kind of brunch full of Bloody Mary bars, bottomless mimosas, and eggs Benedict that I love, the all-you-can-eat buffet has its own perks. I had an overly filling meal where I tried little bits of a huge variety. It's major perk is that you can consume a lot of food and endless coffee for less than $15 before tax and tip. I'm really glad I came here hungry and planning for it to be my main meal that day because otherwise I don't think I'd have gotten such a bang for my buck.
When you brunch, do you prefer a sit-down restaurant or a buffet?