Disclosure: This shop has been compensated by Collective Bias, Inc. and its advertiser. All opinions are mine alone. #NatureMadeVitaminD #CollectiveBias
It's that time of year again. The sun is setting in the early evening, leaving us fewer hours to catch a glimpse of its golden rays. Some days the sun seems to elude us completely, hiding behind snow-filled clouds and gray skies.
Where I live in Grand Rapids, Michigan, our winters are often overcast. If you are thinking that sounds quite gloomy, you are absolutely correct. And, when I say "winter," I actually mean any time from late October through early March. It isn't even officially winter on the calendar yet, and I'm already missing the sunshine.
But, I guess these months of sunless sky is the price I pay to live only 35 miles from one of the Great Lakes. Our beautiful summers lured me back to my home state four years ago, and this close proximity to Lake Michigan was a major selling point for settling in Grand Rapids.
However, coming from the mild-winter Mid-Atlantic, I had forgotten how tough a Midwest winter can be. And, I don't mean physically — though our winters involve a lot of shoveling snow from sidewalks and driveways and scraping ice off vehicles' windshields before driving.
By the way, if you are spending your first winter in the Midwest (or anywhere with cold, snowy weather), don't miss my five essentials for surviving winter in style. 😉
What I had forgotten about Michigan winters, particularly here in West Michigan, is how much the sunless season dampens my mood. I joke about how I hibernate all winter, but in reality, I've found the seasonal dip causes my lack of desire to leave my cozy apartment. It has even adversely affected my productivity and desire to work. That certainly is not something I can afford to do nor is hibernating how I want to spend the holiday season. That is why I have sought out ways to beat these wintertime blues, and I'm sharing my top five tips so you can enjoy the holidays and the rest of winter, too.
1. Get A Daily Dose Of Vitamin D With Nature Made Vitamins
Of course, days without sunshine means our bodies are going without their natural source of vitamin D. Vitamin D is synthesized by the skin when we're exposed to sunlight during certain times of the day and year, and can also be found in a limited number of natural and fortified foods sources. Vitamin D aids in the absorption of calcium, and vitamin D supports bone, teeth, muscle and immune system health.† That is why I'll be taking a Nature Made® Vitamin D3 2000IU Tablet each day this winter.
Vitamin D3 – found in Nature Made vitamin D supplements – is the body's preferred form of vitamin D. Vitamin D3 is more effective than vitamin D2 at raising and maintaining adequate levels of vitamin D in the body.† When you take vitamin D from Nature Made, you can rest assured that you're getting quality vitamins from the #1 Pharmacist Recommended Vitamin and Supplement Brand – based on a survey of pharmacists who recommend branded vitamins and supplements.
Nature Made® offers several levels of Vitamin D at Walmart, including Nature Made® Vitamin D3 2000IU Tablet and Nature Made® Vitamin D3 5000IU Softgel. The 5000IU high dose product is intended for those deficient in Vitamin D as determined and recommended by their physician. I found both varieties at my local Walmart in Comstock Park in the pharmacy section while shopping for Thanksgiving groceries.
2. Turn On The Lights
Another trick to perking up during winter is to create a bright workspace with artificial lights. Have you ever noticed feeling happier when shopping in a brightly lit store versus dimly lit ones? I know I do, and that is what I aim for with my home office. Not only does a bight environment make me feel happier, it also keeps me awake, alert, and productive. When I'm working at home during the holidays, I like to set up my writing station in view of my Christmas tree. The soft glow of those twinkling lights really sets a mood for creativity to flow.
3. Burn A Tropical-Scented Candle
Speaking of setting a mood, candles work wonderfully for that. I'm always a fan of burning candles during the winter to make my home feel cozy. Some of my favorite scents are of a Parisian cafe and marshmallows roasting over the fire. When I really need a boost of energy though, I tend to burn a fruity, tropical-scented candle. Try pineapple, coconut, Tahitian vanilla, margarita, guava, and passion fruit scents to feel like you're somewhere warm and sunny!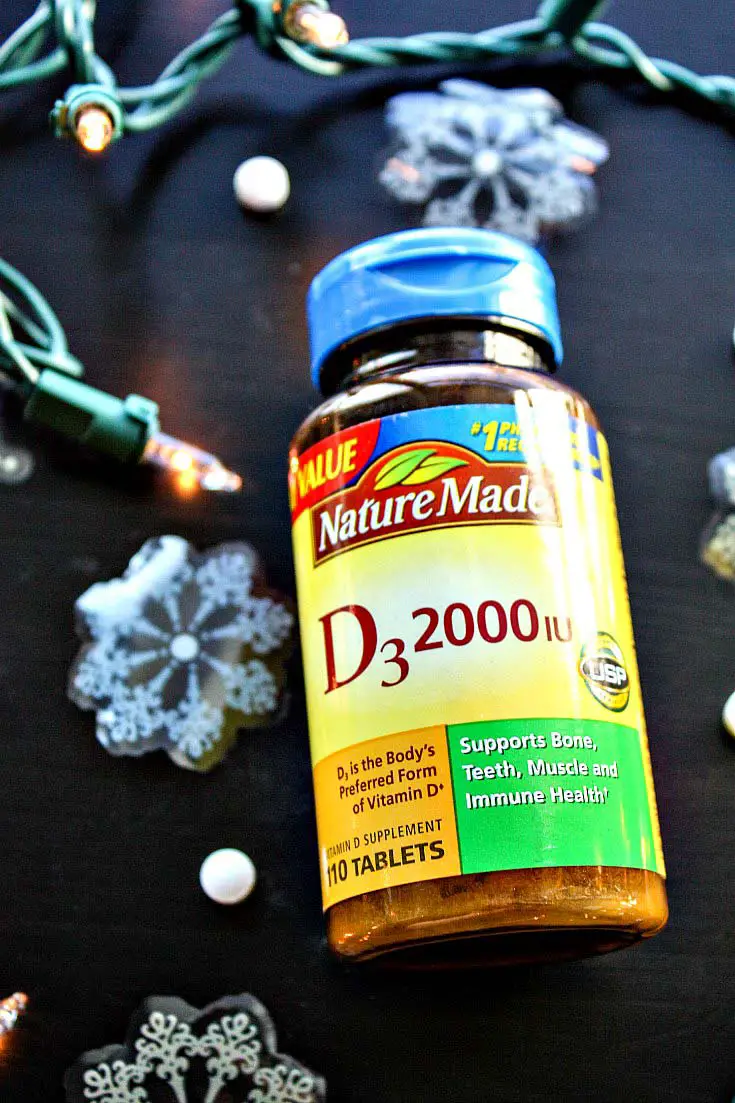 4. Create A Playlist Of Upbeat Music
If you've ever taken a spin or high-octane cardio workout class, you know how motivating upbeat music can be. I know I wouldn't have made it through "climbing the hills" without OMI's "Cheerleader" pumping through the speakers. Not only can music keep us motivated through an intense workout, it can make the most mundane task fun. Washing dirty dishes? Folding laundry? Turn on a pop tune with a catchy chorus, and I dare you to not crack a smile while doing your chores! Whether it's because music speaks directly to my soul or because a kitchen dance party releases endorphins, upbeat music seems to instantaneously lift my mood.
To get you started creating your own mood-lifting playlist, here are a few of my favorite songs that get me smiling, bobbing my head, and tapping my feet:
"Happy" by Pharrell Williams
"Sugar" by Maroon 5
"Despacito" by Luis Fonsi and Daddy Yankee, featuring Justin Bieber
"Havana" by Camila Cabello, featuring Young Thug
"New Rules" by Dua Lipa
5. Plan A Winter Escape To A Warm And Sunny Destination
When all else fails to beat those wintertime blues, it's time to chase the sun. Since moving back to Michigan, I've taken winter escapes to warm and sunny destinations including Costa Rica, Miami, Orlando, and Naples, Florida. Sometimes a dose of sunshine and heat to thaw out is just what I need to get through the rest of winter. Even having an upcoming trip keeps me excited as I plan my itinerary and count down the days until I'm taking off for palm trees and sunny skies. This winter I'm thinking about a Southern US road trip — perhaps around the Gulf of Mexico coast! Winter is a wonderful time to visit Southern California, Hawaii, Texas, the Southeastern states, Mexico, Central America, and the Caribbean. If you've been considering a cruise, a winter escape is the perfect excuse to book one. 😉
Save these tips to your winter or health boards on Pinterest to reference later!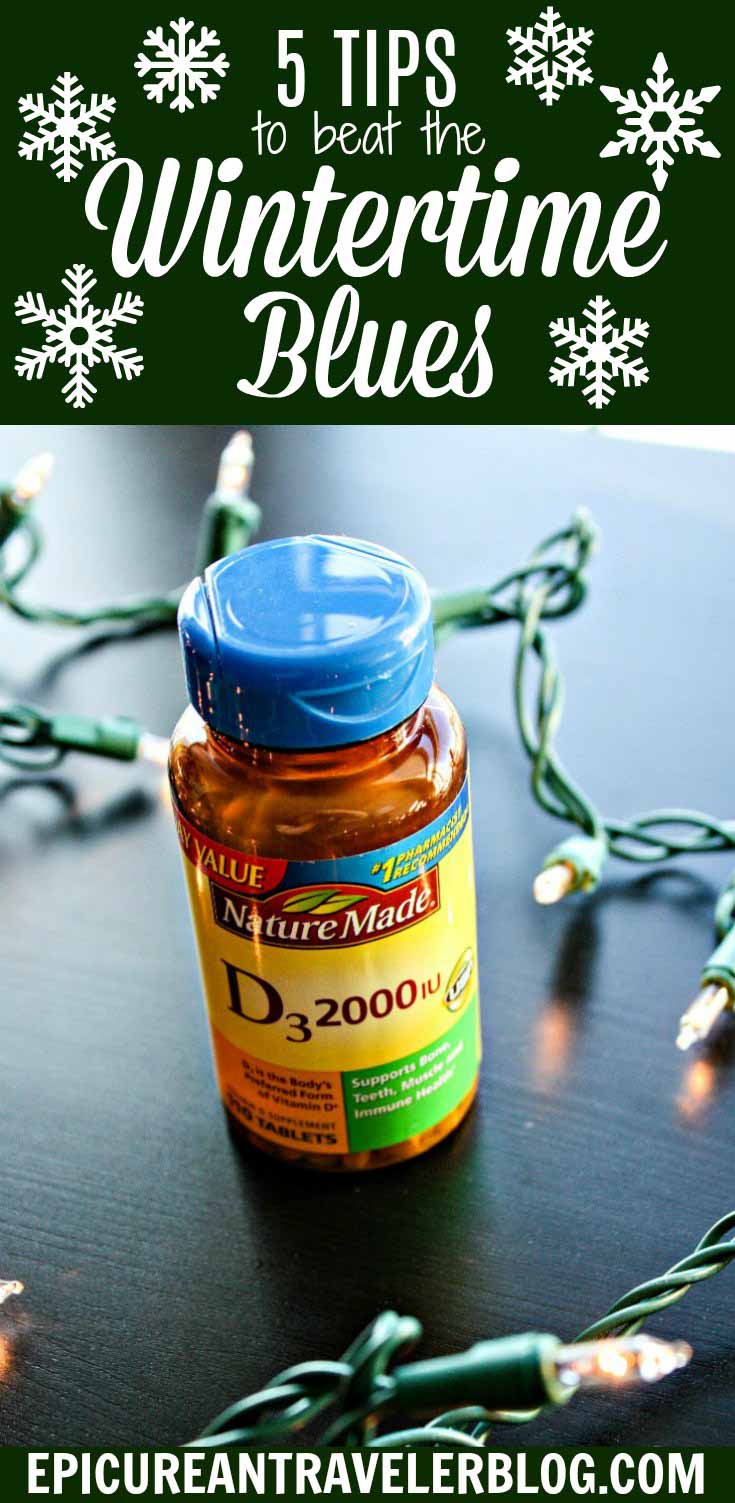 With the holidays coming up, winter should be a season of celebrating with loved ones rather than hibernating. Therefore, I hope you will find my tips for beating the wintertime blues helpful.
If you find yourself feeling a bit down, you are certainly not alone this time of year. In fact, 90% of the U.S. population do not meet their daily vitamin D needs. ¹ I have to imagine the lack of sunshine during the winter months factors into that. So, remember that Nature Made Vitamin D tablets and softgels are available at your local Walmart.
To stay happy and healthy this winter, I'll be taking a daily Nature Made Vitamin D tablet, using tips 2-4 around my apartment, and hopefully taking a Southern U.S. road trip in February.
How do you plan to beat the wintertime blues?
Tell me in a comment below!
† These statements have not been evaluated by the Food and Drug Administration. This product is not intended to diagnose, treat, cure or prevent any diseases.
¹ Fulgoni V, et al. Foods, Fortificants, and Supplements: Where do Americans get their nutrients? J of Nutrition 2011;141:1847-1854.