Confession: I'm materialistic.
There, I said it. I value my relationships with family and friends more than anything else in this world, and experiencing the world through travel is my passion. Yet, I still like my things. Quite a lot, actually.
That's partly why I don't think I'll ever be a total vagabond who gives up all her worldly possessions to trot the globe.
So, the challenge I faced as a hopefully-Madonna-approved "Material Girl" was how to pack for Peru as minimalistically as possible.
My three-week Peru excursion was going to include a variety of activities in different climates, including:
Volunteering at an education center in the dusty, desert-like outskirts of Lima
Sightseeing, dining and attending a food festival in the coastal capital, Lima
Boating across Lake Titicaca, the highest navigable lake in the world
Taking a dip in hot springs
Hiking Machu Picchu/in the Andes
Possibly mountain biking
See what I mean? Challenging.
If you are wondering what to pack for Peru, I hope you'll find my packing list a helpful resource. In this post, I also share what I overpacked, so please learn from my mistakes!
My  Packing Method
Considering that Peru is a developing country with many rural destinations on my itinerary, I figured pulling a wheeled suitcase would not necessarily be most convenient if the roads are not smoothly paved. As I suspected, this was indeed the case. In retrospect, I think I could have managed pulling a carry-on wheeled suitcase.
So, I planned to pack everything in my Deuter backpack (checked baggage on flights), the North Face backpack (carry-on bag), and a Jessica Simpson cross-body purse (personal item).
To keep my belongings organized and to save space, I rolled or folded all of my clothes as small as I possibly could and sorted them into the following groups: jeans, workout capris, dry-fit shirts, blouse with camis for layering, tanks/T-shirts, PJs, socks, underwear, sports bras, bras, track jacket, bathing suit, and change of clothes for my carry-on should my checked bag get lost/delayed.
I then placed each group into plastic slider bags — I used Hefty, but Ziplock and similar brands would work as well — zipped the bag to about an inch of closing, and then leaned onto the bag to squeeze out the air as I zipped the bag closed. You might call this the poor man's travel cubes, which so many of my fellow travel bloggers seem to swear by.
My Peru Packing List
Clothes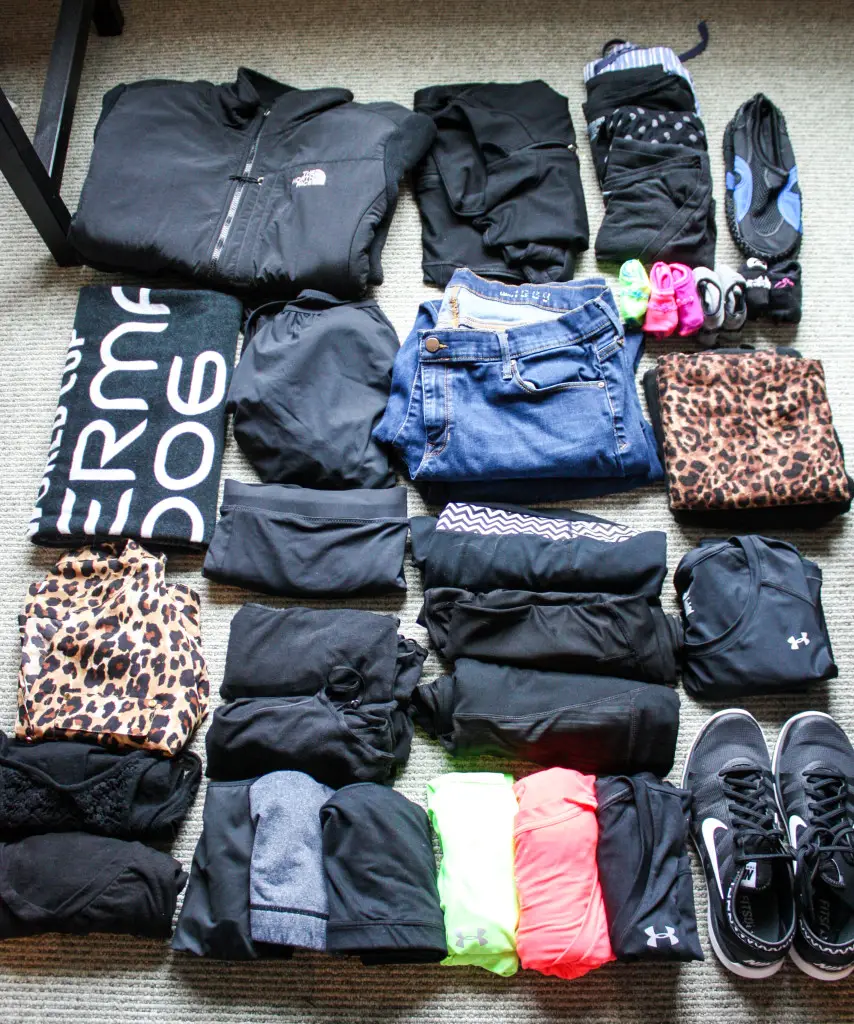 2 pairs dark wash skinny jeans
3 pairs dry-fit/workout capri-length leggings
1 pair full-length workout leggings*
3 short-sleeve dry-fit shirts
1 long-sleeve dry-fit shirt
2 v-neck T-shirts
3 tank tops*
2 camisoles
1 button-down silky blouse
1 lightweight track jacket
1 fleece jacket
1 oversized cardigan*
2 pajama sets
14 pairs underwear*
4 sports bras*
2 bras
7 pairs athletic socks
1 pair tennis shoes/sneakers
1 pair water shoes
1 pair black flats*
1 swimsuit
1 lightweight beach towel
1 fashion infinity scarf
1 pashmina-style scarf
1 dry-fit baseball cap
1 pair sunglasses
1 watch*
2 pairs earrings*
1 bracelet
Set of four interchangable/stackabe rings*
4 necklaces*
*Indicates I wore something in that category on the flight to Lima.
Technology
Toiletries
Toothbrush + travel-size toothpaste
Deodorant
2 travel-size shampoos, conditioners, body and face washes
2 3-packs disposable razors
Hairbrush + comb + hair ties + bobby pins
Travel-size hair spray
Spray-in detangler in travel-size bottle
Makeup: Naked eye shadow palette, mascara, eyeliner + sharpener, foundation, bronzer, lip gloss, lip balm
Tweezers
Nail clippers
Nail polish + non-acetone nail polish remover pads
Travel-size lotion
Sunscreen
Aloe Vera/After-sun lotion
Bug Spray with DEET + DEET wipes
Neosporin/First-aid antibiotic cream
Band-aids
Cortizone/After bug-bite/anti-itch cream
Hand sanitizer
3 pocket packs of facial tissue/Kleenex
5 packs hand sanitizer wipes
3 packs of make-up remover wipes
6 packs Cottonelle flushable wipes
Tampons
Condoms
2 travel-size Advil bottles
Pepto Bismol, Immodium and Ciprofloxacin
Malaria Medication
Zyrtec/seasonal allergy medication
Tide To Go Pen
3 Tide detergent travel-size packets
Other Items
What were the best things I packed for Peru?
Cottonelle flushable wipes + Purrell hand sanitizer wipes + Bath & Body Works pocket-size hand sanitizer — Public restrooms are not always equipped with toilet paper, soap and/or paper towel in Peru, especially the roadside shack-like restrooms I encountered during long bus rides through the Andes. Never on my trip did I need to buy toilet paper to carry around with me, and the wipes were more compact to carry in my daypack.
Drawstring backpack — My Adidas drawstring backpack is a more compact daypack than my North Face backpack, but it is still large enough to hold my camera, extra lens, selfie stick, phone, wallet, lightweight jacket, hat, sunscreen, bathroom necessities, and a water bottle. My backpack actually has two water bottle holders, and a waterproof pocket where I kept my phone.
Lifeproof phone case — With this waterproof case, I was able to take photos in the hot springs.
Pepto Bismol and Ciprofloxacin — When you get food poisoning, you won't necessarily be able to get yourself to a pharmacy to purchase these medications. They are sold over the counter in Peru, but — trust me, someone who got food poisoning in Peru — you'll want to have this on hand in case of sudden illness.
Pashmina-style scarf — This was a multi-functional article of clothing! It was an extra layer of warmth in the cold mountain climates. It was a lightweight layer that provided protection from the sun. It was a blanket when I napped on long bus rides.
Spanish-English pocket dictionary — This was a last minute addition to my packing list since I figured I would almost always be with a Spanish speaker, but I'm so glad I added it! My travel companions and I found it incredibly helpful when trying to decipher restaurant menu items even with nearly fluent speakers among us.
What did I overpack for Peru?
Umbrella — I was in Peru during the dry season. The few times it did rain, it was a light drizzle, and I didn't have my umbrella with me in those moments anyway because I hate carrying it around. I would have been better off packing an emergency poncho for Machu Picchu instead. If you will be in Peru during the dry season (winter), I recommend either packing a lightweight rain jacket (in lieu of the track jacket I packed) or a poncho that folds up to about pocket size to keep in your daypack.
Yellow Fever Vaccination Certificate — I was told by my travel doctor to carry it with me, but I was never once asked to present it in Peru or the United States.
Bug spray — I had enough bug spray wipes on me to use two per day for the entire three weeks, but the only place I encountered mosquitoes was Machu Picchu. One bottle of bug spray and one pack of wipes would have been more than sufficient. You can also buy bug spray in Aguas Calientes. The pharmacies and little tourist shops all carry Off! just like you'll find at drug stores and supermarkets in the states.
Plug adapter — All the hotels had outlets that fit North American plugs, especially the flat prongs of the iPhone charger.
Water shoes — Contiki recommended Teva sandals for the hot springs, but I find those sandals absolutely hideous. Sorry, I am so not sorry for that opinion. The packing list specifically stated to not use flip flops for that activity, so I took my water shoes since they worked out great for climbing over rocks to get to a cenote in Mexico and kept my feet from touching slimy things when I went on the WaveRunner on Lake Michigan. Once I got to the hot springs, I realized that it wasn't in nature. It was like a pool, so I totally could have worn flip flops after all. Flip flops also would have been nice to use as slippers inside the hotel rooms, which often had cold tile floors.

With a few minor changes, my packing system would have been a complete success. Hopefully, you can learn from my mistakes!
Save this packing list to Pinterest for future reference!
If you have traveled to Peru, what would you add to this list?
Save
Save