In 2016, I traveled to Costa Rica, raced around Disney World, and drove up the California coast. I ate and drank my way through Wisconsin and Minnesota, sipped wines in Northern Michigan and Maryland, and tasted bourbon in Kentucky.
With my iPhone in hand, I captured so many of these travel moments on Instagram. So, in this post, I'm counting down my most memorable Instagram photos of 2016.
25. Craft Beer Tasting In Stillwater, Minnesota
Beer tasting at Maple Island Brewing wrapped up a fun-filled day in Stillwater — one of the most charming small towns you'll find in the Midwest.
24. Chocolate Chip Cookie Beer At Minnesota State Fair
Nothing quite sums up the kitsch and creativity of the new foods and exclusive craft beers at the Minnesota State Fair like this Chocolate Chip Cookie beer from Big Wood Brewery.
23. Harmony Brewing Company's Beer & Pizza In Grand Rapids
When my dad visited me in Grand Rapids this summer, I realized how proud I was to re-introduce him to my city. Since we're known as #BeerCityUSA and home to 40+ breweries on our Beer City Ale Trail, I had to kick off his visit with a local brew.
22. A Jolly Ol' Seal In La Jolla
Sometimes you just have to stop and watch the seals. That's what I did at Children's Pool Beach in La Jolla. During my California road trip, I also watched the elephant seals in San Simeon and the sea lions at San Francisco's Fisherman's Wharf.
21. Cheers To The Costa Rican Sunset
After a relaxing and fun five days with my best friend since childhood in windy but beautiful Costa Rica, we watched the sunset from the pool. Bubbly in hand, of course. It was the perfect cap to our vacation to celebrate our 30th birthdays at the Dreams Las Mareas resort.
20. Lakefront Wine Tasting In Suttons Bay, Michigan
Wine tasting in Michigan's Leelanau Peninsula is an adorably scenic experience, but the wines — especially the bubbly, whites and cherry wines — are reason enough for me to visit again.
19. Hanging At Hearst Castle
Having started my journalism career at a Hearst newspaper, I just had to tour the European-like village of a home that belonged to eccentric William Randolph Hearst. Doesn't this mansion look like a Spanish or Italian cathedral?
18. The Lone Cypress
Driving along California's Central Coast, a must-do is the scenic 17-Mile Drive along Pebble Beach. I loved the ocean views, especially this one of the lone cypress tree.
17. Loving Laguna Beach
My three days in Southern California's Laguna Beach were filled with shopping, browsing art galleries, eating delicious food, sipping cocktails, strolling the downtown streets, and watching the waves roll in at this beach.
16. The View From Above Miami
Flying into Miami International Airport on my way to Costa Rica reminded me of visiting the South Florida city in 2015.
15. Bubbly Reflections In Temecula, California
An overnight stay in Temecula introduced me to Southern California wines. At Carter Estate, I did a fantastic wine tasting and food pairing.
14. Swami's Beach Sunset
If you look closely at this photo, you'll see small black dots on the water just to the left of the sun's reflection off the water. Those dots are surfers. I must have spent 20 minutes just watching surfers arrive and paddle out to catch the last few waves before the sun set over Swami's Beach in Encinitas, California.
13. Funfetti Ice Cream Cookie Sandwich In San Luis Obispo
While planning my California road trip, several friends recommended I visit San Luis Obispo, noting it was a "foodie" destination. I ended up eating lunch at Big Sky Cafe, which had received high praise from a Californian I had met while in Costa Rica. My meal there was delicious, but it was the ice-cream cookies across the street at Batch that stole this foodie's heart. Isn't that rainbow sprinkle-covered ice cream sandwich just adorable? It tasted even better than it looks!
12. Pink Tiki Drink In San Francisco's Marina District
For #SundayFunday in San Francisco, my sister and I spent the day in the Marina District. We brunched at the Dorian and then drank tropical cocktails at the Palm House.
11. Looking Up In La Jolla
I spent a tasty day experiencing the La Jolla culinary scene with BITE San Diego food tours before heading up the coast from San Diego to Laguna Beach. Food tours became my favorite way to explore new destinations this year.
10. Browndog Creamery Cone In Northville, Michigan
In July, I took a day trip to Northville, a Detroit suburb with a fantastic downtown for strolling, eating, and shopping. The absolute highlight was Browndog Creamery, which had so many unique flavors that I couldn't settle for just one!
9. Summertime At Schell's Brewery
A cold cup of Schell Shocked, a fruity radler, is a wonderful way to end a summertime brewery tour at August Schell Brewing Company in New Ulm, Minnesota.
8. Door County Creamery
This sandwich at Door County Creamery was too-die-for delicious!
7. A Rosé Day In Big Sur
Talk about a drink with a view! The whole drive along the Pacific Coast Highway near Big Sur was full of breathtaking vantage points.
6. Seeing San Francisco's Painted Ladies
When I visited San Francisco with my family in 2011, seeing the Painted Ladies was one of the things I desperately wanted to do — but we ran out of time. I don't think this iconic sight from the opening credits of Full House holds as much meaning to my Baby Boomer parents as it does for me. Finally got to see it this year, and the view did not disappoint!
5. Supper's French Onion Soup In Milwaukee
On a drizzly spring day in the Midwest nothing is better than warming up with a bowl of soup. My entire meal at Supper was superb, but this French onion soup started it off just right.
4. Leaving Leland On Lake Michigan
Growing up in Michigan, my family spent many summer vacations Up North, but never did we visit Leland on Michigan's Leelanau Peninsula. This summer I saw historic Fishtown and cruised Lake Michigan during my short Labor Day weekend vacation in nearby Glen Arbor.
3. Huntington Beach Silhouettes
Huntington Beach is a surfer's city in Southern California's Orange County. After a stroll along the pier to watch surfers riding the waves, I caught the sunset at just the right moment for this shot of palm trees in silhouette.
2. Kayaking Lake Michigan In Door County
No filter or editing is necessary when the Lake Michigan water is a vibrant teal and clear enough to see straight to the bottom. Needless to say, kayaking along the Door County shore provided me two hours of beautiful views!
1. A Dramatic Sky Over The Grand Rapids Skyline
Sometimes you don't have to travel at all to enjoy a stunning sunset. My favorite Instagram of 2016 was shot as I stood at the window of my downtown Grand Rapids apartment just gazing in awe of the majestic sky.
If you enjoyed these photos, save this post to Pinterest!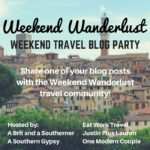 What was your most memorable travel moment of 2016?
Disclosure: This post may contain affiliate links. As always, all opinions are my own.
WSave
Save
Save
Save
Save
Save
Save
Save
Save
Save
Save
Save
Save
Save
Save
Save