As a guest of New Holland Brewing Company, I enjoyed lunch and a flight tasting at the New Holland Pub on 8th in Holland, Michigan. This post may contain affiliate links/advertising. You can read my full disclosure here. As always, all opinions expressed are my own.

Stop and taste.
That is the motto adorning the New Holland Brewing Company tasting glasses, and it's exactly what you should do at this West Michigan brewery.
Located in Holland, Mich., the brewery is celebrating 20 years of brewing and serving craft beer in this small coastal town about 30 miles southwest of Grand Rapids.
Established in 1997, New Holland is among the oldest microbreweries in Michigan. The state, by the way, is now home to more than 220 craft breweries. Just in Holland, there are six breweries, two wineries, and a distillery (besides New Holland Artisan Spirits). And, those are just the ones I know of off hand!
But, 20 years ago, New Holland was a pioneer — bringing craft beer to a small town with a heavily Dutch, Christian, and conservative population. So, why open a brewery in Holland? Well, as Fred Bueltmann, Vice President of Brand & Lifestyle, simply put it: Because it needs one.
"We wanted to provide something that wasn't really here," Bueltmann said.
And, they certainly did. In 2002, New Holland relocated from its warehouse beginning to its current family-friendly tavern. Right in the heart of downtown Holland, the New Holland Pub on 8th serves as a gathering place for the local community and visitors alike.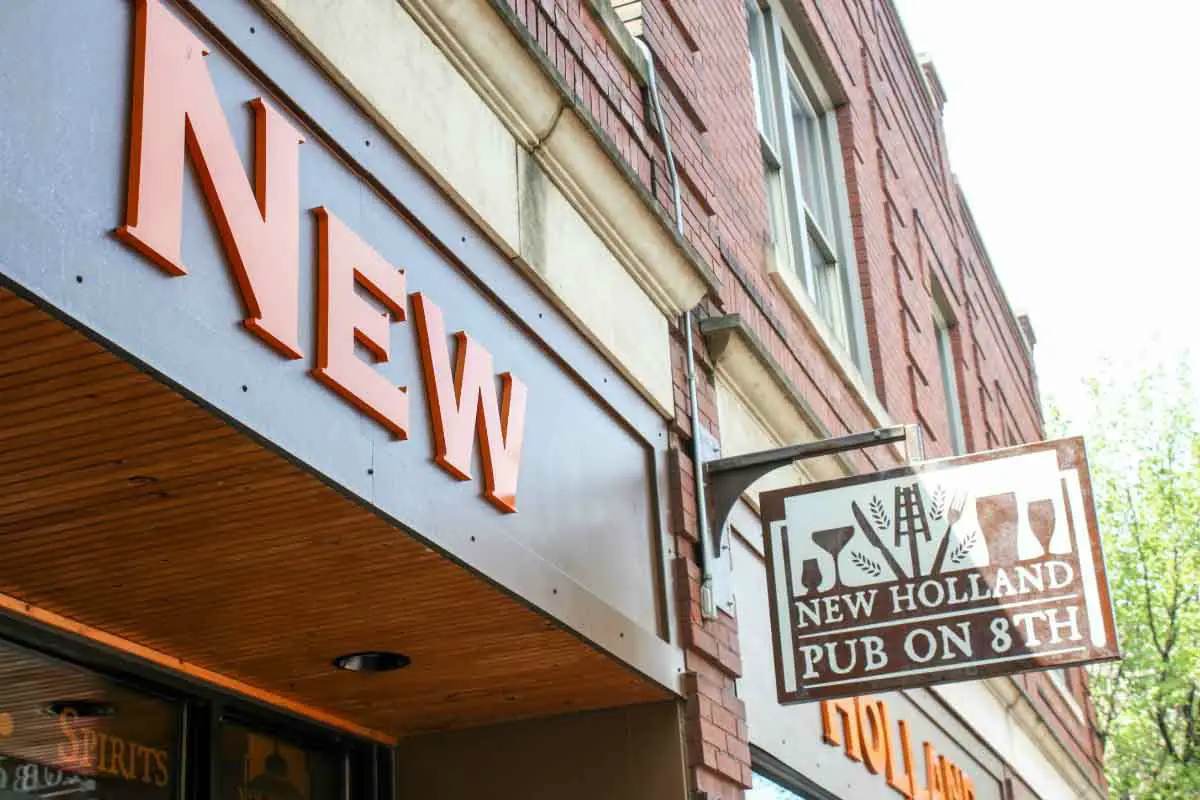 I recently dined at the Pub on 8th and enjoyed the laid back atmosphere of eating and drinking at picnic tables on the outdoor patio. Inside the restaurant are two dining rooms, including a large bar. The spacious pub offers plenty of seating, whether you prefer alfresco dining or watching passersby through the nearly floor-to-ceiling windows of the air-conditioned tavern.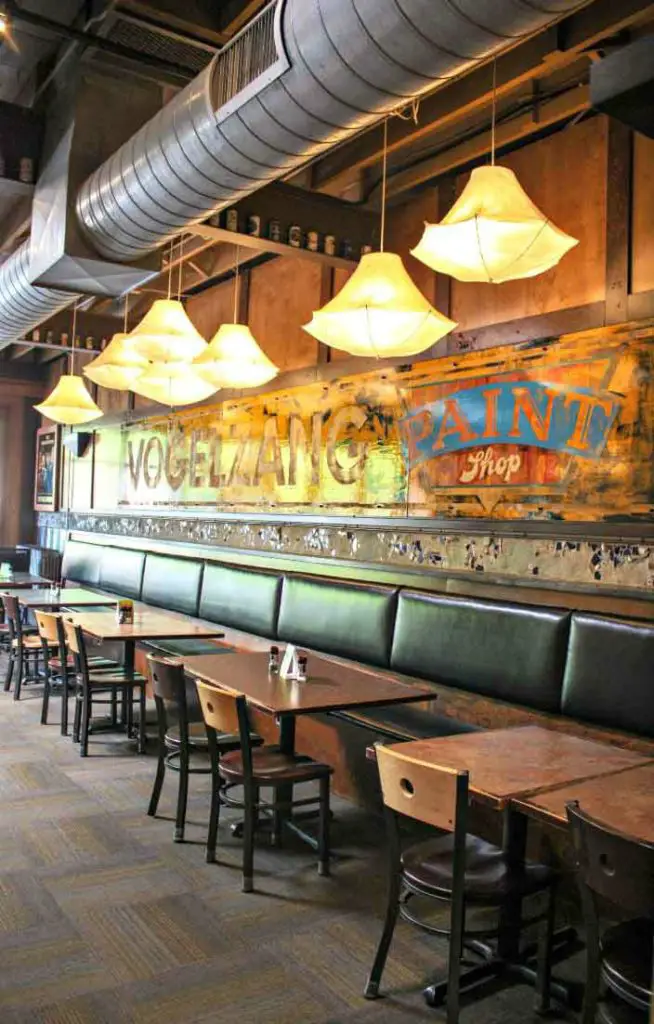 More Than Beer
In 2005, co-owner and New Holland President Brett VanderKamp was inspired to bring artisan spirits to Holland after finding world-class rum during his Puerto Rico surfing trip. So, if you prefer spirits and cocktails over craft beer, New Holland has something for you, too.
Connected to the Pub on 8th is Sidecar, New Holland's retail shop with a tasting bar. Complete with a six-tap draught system, the full lineup of New Holland Artisan Spirits, and a few specialty cocktails, you can visit the tasting bar on Friday evenings and from noon until 8 p.m. Saturdays.
In the shop, you'll find New Holland gear, six-packs of beer, and spirits such as New Holland Knickerbocker gin. My favorite is Blue Haven — the Knickerbocker gin steeped in blueberries. I really appreciated that I could taste the spirits before purchasing a bottle to bring home.
New Holland Pub on 8th: The Food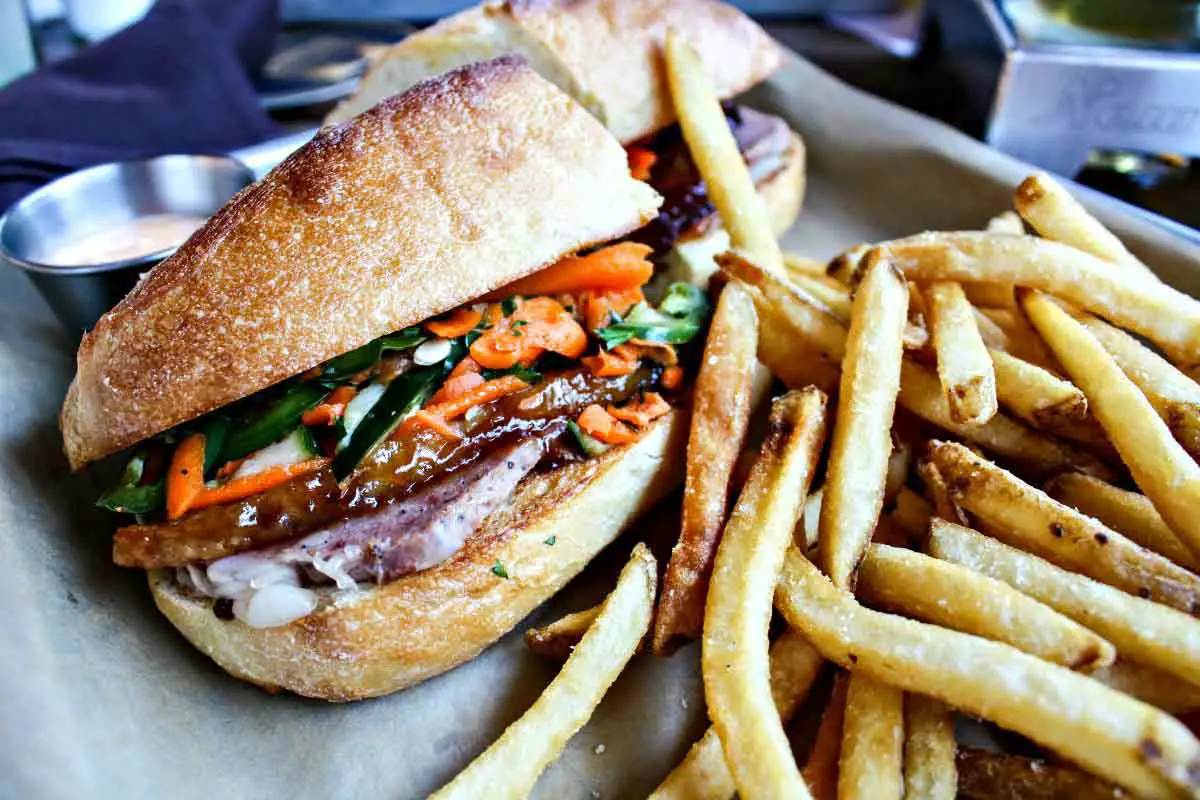 Casual pub fare — sandwiches, salads, and pizzas — make up the bulk of the Pub on 8th's menu. Though you'll also find some hearty meals under the Butcher's Counter section and vegetable sides, which you can order larger to share or as a vegetarian entree. A lot of those vegetables are sourced from local West Michigan farms, too.
During my lunch, I opted for the Bahn Michigan. New Holland's take on the spicy Vietnamese sandwich has smoked pork belly, pork pâté,  pickled veggies, jalapeño, cilantro, and chili mayo. Sandwiches come with chips or raw veggies, but you can (and should) substitute for fries. Just the right amount of crispy and salty, the fries were especially tasty dipped in a side of the chili mayo.

Craft Beers By New Holland Brewing Company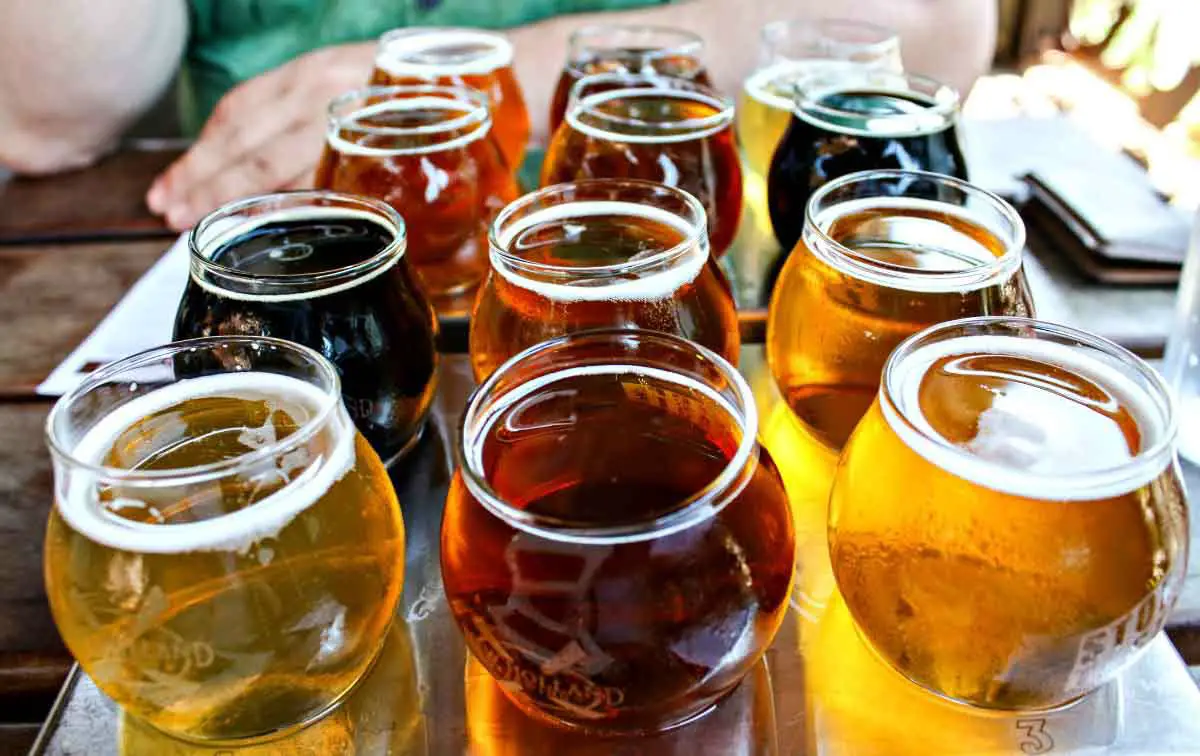 The New Holland brewers believe in balance. As I tasted these six New Holland beers, I noticed even the beers with high alcohol content didn't have overpowering flavors.
The Six New Holland Beers I Tasted
Extra Time — A light, crisp, and refreshing session beer that's an easy sipper you want on a hot summer day.
Hollander — A Saison created in collaboration with Tulip Time.
Tasmanian Hatter — A Galaxy IPA with tropical fruit flavors from the New Zealand and Australian hops.
Lost Dune — A summer ale with blueberries that tastes like drinking a blueberry muffin. My personal favorite of New Holland's beers.

Mad Hatter — A Midwest-style IPA brewed with Citra, Centennial and Michigan-grown Cascade hops, which gives it a slightly bitter finish.
Dragon's Milk — A bourbon-barrel-aged stout with 11% ABV and hints of vanilla.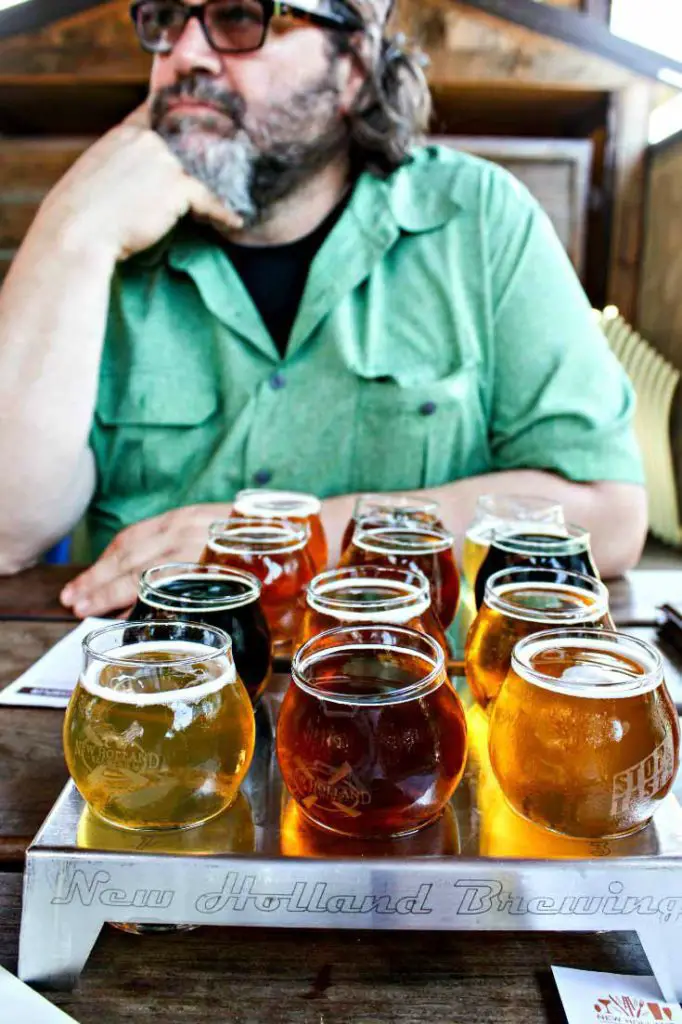 Celebrating New Holland's 20th Anniversary
In honor of New Holland's 20 years in Holland, the brewery will celebrate with an expanded Hatter Days street party from 4 to 11 p.m. June 10 in the parking lot behind the Pub on 8th and along College Street between 8th and 9th streets in the city's downtown. The afterparty continues until 1 a.m. inside the Pub on 8th.
"This is a really special time for us," VanderKamp said. "It's a time for us to reflect on the time, energy and passion that has gone into our beer, spirits, and business over the past two decades. It's also an amazing event for all ages that introduces people from all over the Midwest to our community of Holland and the downtown businesses who are doing great things here."
This free celebration for all ages will feature live music and entertainment, an outdoor tiki bar, BBQ eats, and a Stop & Taste area with lounge chairs and lawn games. The beer selection will include the Hatter beers — Tasmanian Hatter, White Hatter, and, of course, Mad Hatter IPA.
"Hatter Days is our favorite time of year, and this year we're going above and beyond in all aspects," said New Holland Vice President of retail operations and co-owner, Dave White, in a press release. "Like the Mad Hatter himself, we love a good party, and there's nothing better than hitting the streets to kick-off summer and celebrate our history in beer, our company and this awesome community who has been with us since the beginning, way back in 1997."
Giving Back During Hatter Days
During Hatter Days, New Holland is partnering with local West Michigan charity Kids' Food Basket. Street party attendees who bring items from the Kids' Food Basket wishlist will be entered into a raffle for prizes that include a beer and spirits pairing dinner for 10.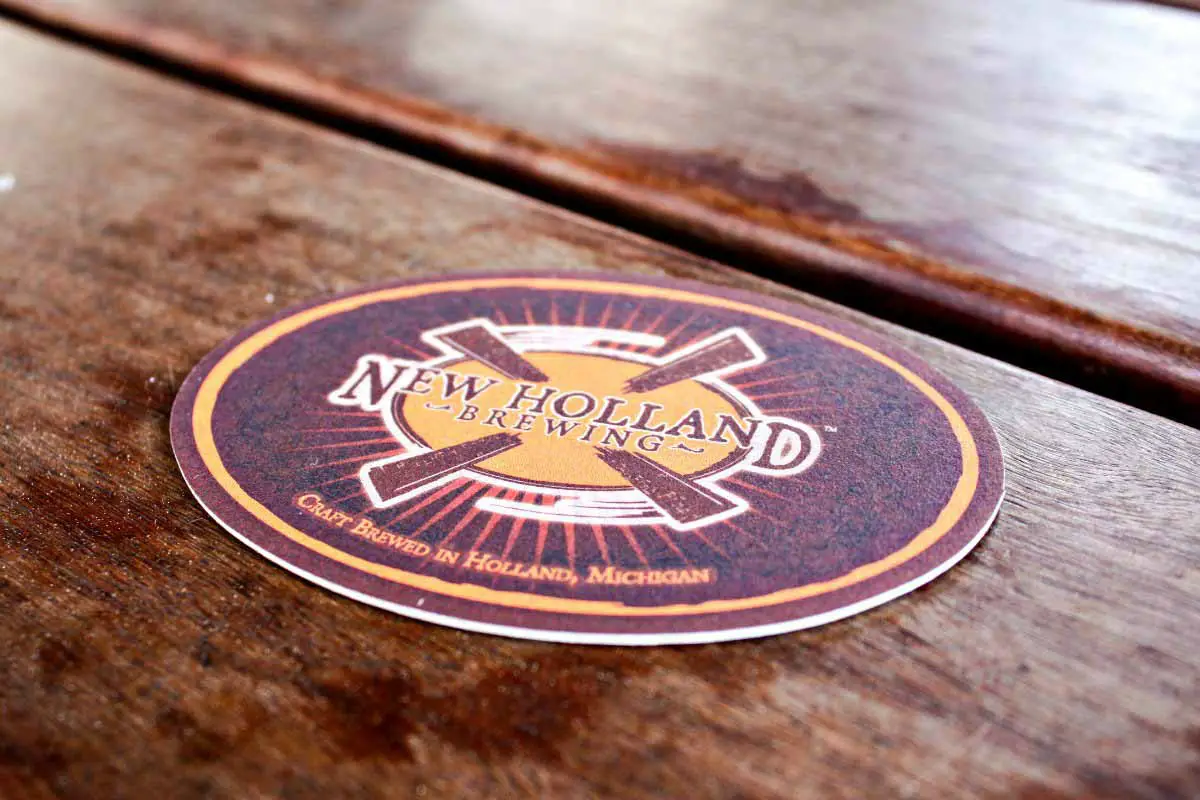 New Holland Releases Throwback Beers
Also as part of New Holland's 20th-anniversary celebrations, the brewery is bringing back six fan and brewer favorites from the past two decades.
The lineup of New Holland limited-release throwback beers includes:
Kourage — First brewed in 1997, this brown ale was originally named "Dutch Kourage." It is a dark, aggressively hopped brown ale with robust malt flavor and hints of chocolate.
Zoomer Wit — This wheat ale was first brewed 1998 with orange, spices and American-grown wheat. Its subtle hints of citrus fruit made Zoomer a summer-time favorite.
Y2K — Hailing from the year 1999, Y2K is a barleywine-style ale with deep mahogany hues. It is rich in body and contains notes of caramel and raisin.
Green Hornet — Green Hornet also comes from 1999. It is an American-style pale ale that is golden in color. The beer is bright and crisp with just enough hop character, complemented by a sweet malt finish.
Jubilee — Jubilee was first brewed in 1999 and harmoniously blends fruit and fermentation character into a delicious, balanced sip.
Blue Goat — First brewed 2006, this doppelbock beer is chestnut in color with a nutty malt profile from its Munich malt. It has a muted hop presence and caramelized body to culminate a dry finish.
How To Purchase New Holland's Throwback Beers
These throwback brews will be available at throwback pricing! Cool, huh?
New Holland's Fairbanks Society — its mug club — can preorder the throwback beers May 30 through June 6 at New Holland Brewing's Sidecar storefront, located at the Pub on 8th.
The throwback beers will also be available at Hatter Days. Six-packs can also be purchased at the New Holland Pub on 8th and The Knickerbocker in Grand Rapids starting June 10.
What To Know Before Visiting New Holland Pub on 8th

Location: 66 E 8th St, Holland, MI 49423
Menu: Sandwiches, Salads, Pizzas, Sausages | See the full food menu
Parking: Free street parking
Atmosphere: Casual
Follow New Holland Brewing: Website | Facebook | Instagram | Twitter
Save this post to your beer, travel, or Michigan board on Pinterest!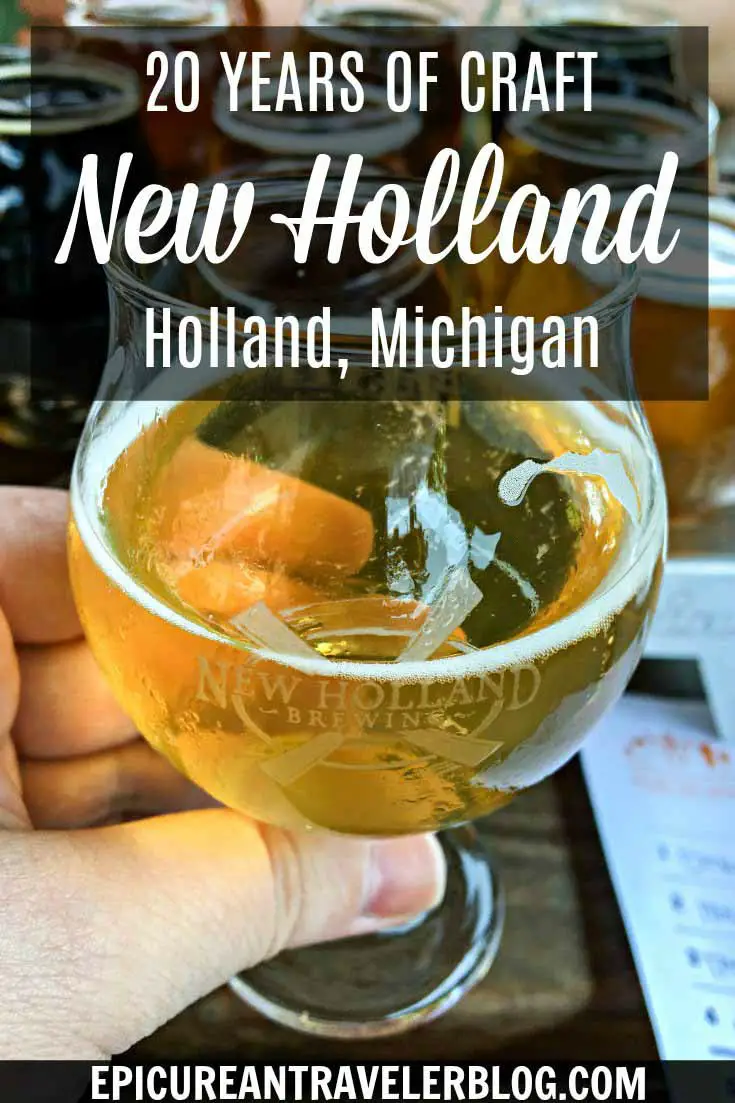 Which New Holland beer is your favorite?
Save
Save
Save
Save
Save
Save
Save
Save
Save
Save
Save