When I book a trip to New York City, I immediately feel absolutely gleeful because I'll get to eat some of the best bagels on earth smothered in an abundance of cream cheese. In fact, that is exactly what I did every morning of my Big Apple visit this past weekend.
In addition to bagels, my New York City visits often include Sunday brunch and Bloody Mary cocktails. Since I've been regularly visiting NYC over the past eight years, it felt like time to share my favorite bagel, brunch, and Bloody Mary spots in Manhattan.
Antique Garage | SoHo
This Turkish/Mediterranean restaurant in SoHo serves brunch of Bloody Marys and mezes starting at 11 a.m. Saturday and Sunday. I recommend starting with the mixed meze or traditional breakfast platters for the table. And, you've got to eat the borek. It's phillo dough stuffed with feta cheese and parsley. So delish!
Antique Garage | 41 Mercer St, New York, NY 10013 | Reserve Your Table

Gramercy Farmer & The Fish | Gramercy/Flatiron District
While I must caution you about the disorganized service, I still highly recommend this seafood restaurant's brunch.
My sister and I dined here on Sunday afternoon. After being seated, we waited and waited for a hostess or server to fill our empty glasses with water. Finally, a waiter took pity on us, taking our orders despite not being assigned to our table.
In spite of the long wait for service, I was very pleased with my meal. You'll find offerings from the raw bar, salads, and seafood brunch dishes. My sister's farmer's salad looked fresh and plentiful with huge shaved radishes. I opted for a delicious lobster gyro with a healthy dollop of tzatziki and a tasty side salad of chopped greens with cucumber, Kalamata olives, and feta cheese.
Also, my Bloody Mary tasted of cocktail sauce — what else would you expect from a seafood restaurant?
Gramercy Farmer & The Fish | 245 Park Ave S, New York, NY 10003 | Reserve Your Table
Murray's Bagels | Chelsea
At Murray's Bagels, you better know what you want by the time you step up to the counter to place your order. You'll get to choose from classic, whole-wheat, and "flatz" (which have half the calories and carbs) bagel varieties hand-rolled and made fresh daily. I recommend the pumpernickel and sesame bagels.
Don't even bother asking for it toasted, but pick a schmear such as tofu "cream cheese," peanut butter, jelly, Nutella, hummus, butter or one of the nine flavors of cream cheese. The abundance of cream cheese sandwiched between your bagel halves may shock you, but now you've been warned.
Murray's Bagels Chelsea | 242 8th Ave, New York, NY 10011
NORMA'S at Le Parker Meridien | Midtown
Located inside the 4-star hotel near Central Park, NORMA'S is only open for breakfast and brunch until 3 p.m. daily. Though the hotel is swanky, kids are more than welcome to this classy brunch spot, and they'll love all the sweet pancake, waffle and French toast dishes. I loved my very berry brioche French toast topped with a mixed berry compote, fresh berries, and a generous sprinkle of powdered sugar. If you prefer a savory brunch dish, you won't be disappointed. The menu features a variety of Benedicts, omelets, and egg dishes. Plus, coffee drinkers will be delighted to find bold French press coffee.
NORMA'S at Le Parker Meridien | 119 W 56th St, New York, NY 10019 | Reserve Your Table

P.J. Clarke's | Lincoln Square
P.J. Clarke's is the only restaurant on this list that isn't a breakfast/brunch spot, but the Original Clarke's Jumbo Bar Bloody Mary is certainly one of the best Blood Marys I've had in NYC. Pair it with the lobster roll off the lunch menu to turn your mid-day meal into a boozy brunch.
P.J. Clarke's | 44 West 63rd Street, New York, NY 10023
The Standard Grill | Meatpacking District
Brunch at the Standard Grill should start with one of the brunch cocktails. My Bloody Mary was mixed with fresh herbs and garnished with a lemon and green olive. Next time I brunch here, I'd love to try the Orchard Bellini of sparkling wine with apricot liqueur and fresh peach purée.
The Standard Grill's brunch menu offers an eclectic mix of sweet and savory, breakfast and lunch dishes. I ordered the delicious eggs benedict, but I was a bit envious when I saw my sister's loaded bagel and lox.
The Standard Grill | 848 Washington St, New York, NY 10014 | Reserve Your Table

Stone Street Tavern | Financial District
Sandwiched between skyscrapers is a cobble stone street filled with umbrella-covered picnic tables under strings of twinkling lights by night and full of brunch diners by day. My sister and I loved Stone Street Tavern's brunch so much, we at there two days in a row.
My first brunch here included bottomless mimosas, a delicious veggie-packed omelette and breakfast potatoes, and a delectable guava cheesecake. The following brunch was all about hangover cure — complete with a hearty Bloody Mary and the messiest fried-egg topped beef burger.
Stone Street Tavern | 52 Stone Street, New York, NY 10004 | Reserve Your Table
Save this post to Pinterest before your next trip to NYC!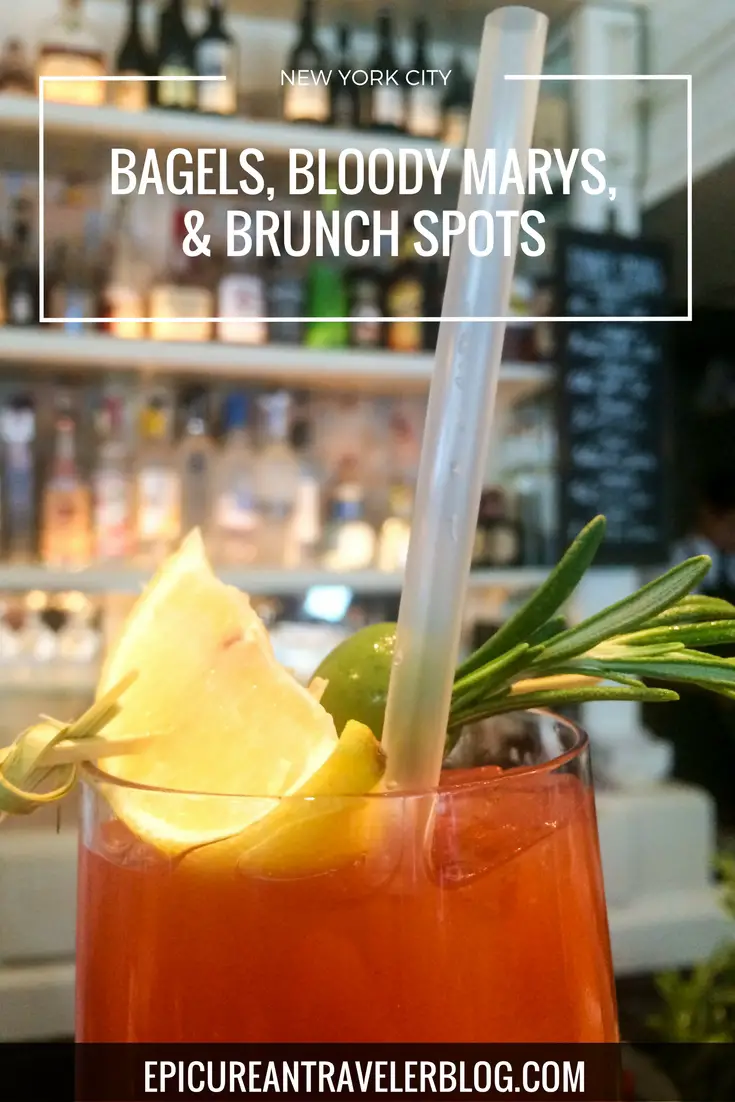 Where are your favorite bagel and brunch spots?
Save
Save
Save
Save
Save
Save
Save