Ann Arbor, Michigan, becomes an outdoor gallery during the annual Ann Arbor Art Fair. And, I absolutely love walking the artisan-booth-lined streets, admiring the craftsmanship, shopping for photographs and jewelry, and dining in one of Michigan's most diverse food scenes.
Every year the art fair attracts a half-million visitors and is comprised of four separate juried art fairs that fill the streets around the University of Michigan campus.
You'll see photographs of Michigan landmarks and European vistas, handmade handbags, cute children's clothing, detailed textiles and fiber pieces, unique mixed media, beautiful woodwork, funky sculptures, one-of-a-kind jewelry and so much more! Shops also have street sales and many restaurants set up outdoor seating during the fair.
After attending this award-winning fair since I was a teenager (or younger), I've compiled some tips for navigating it.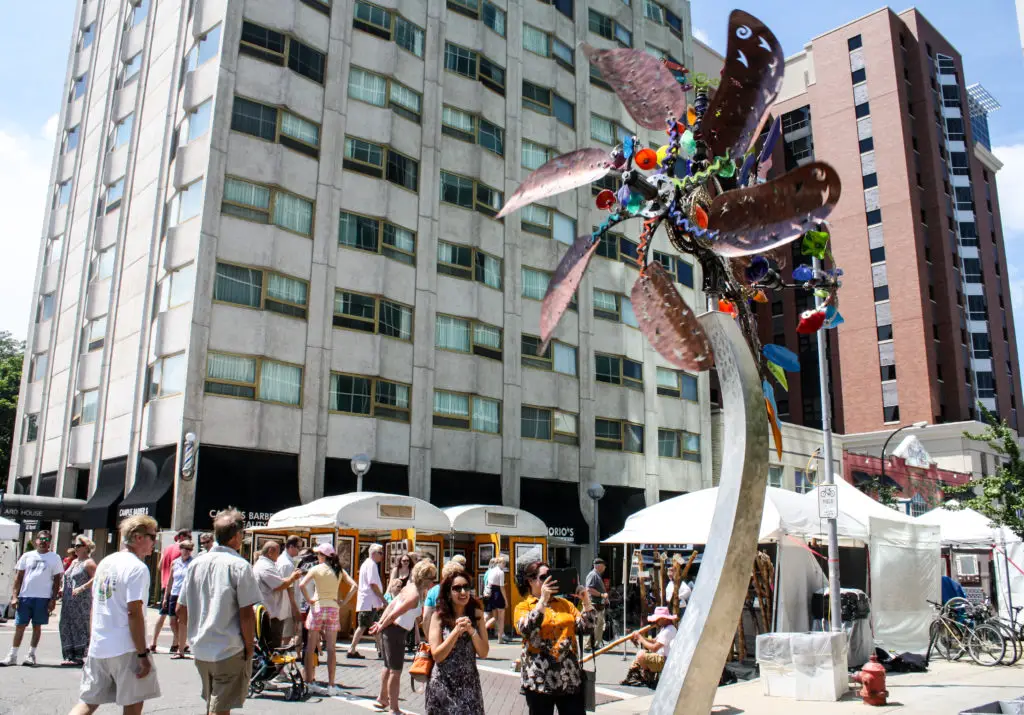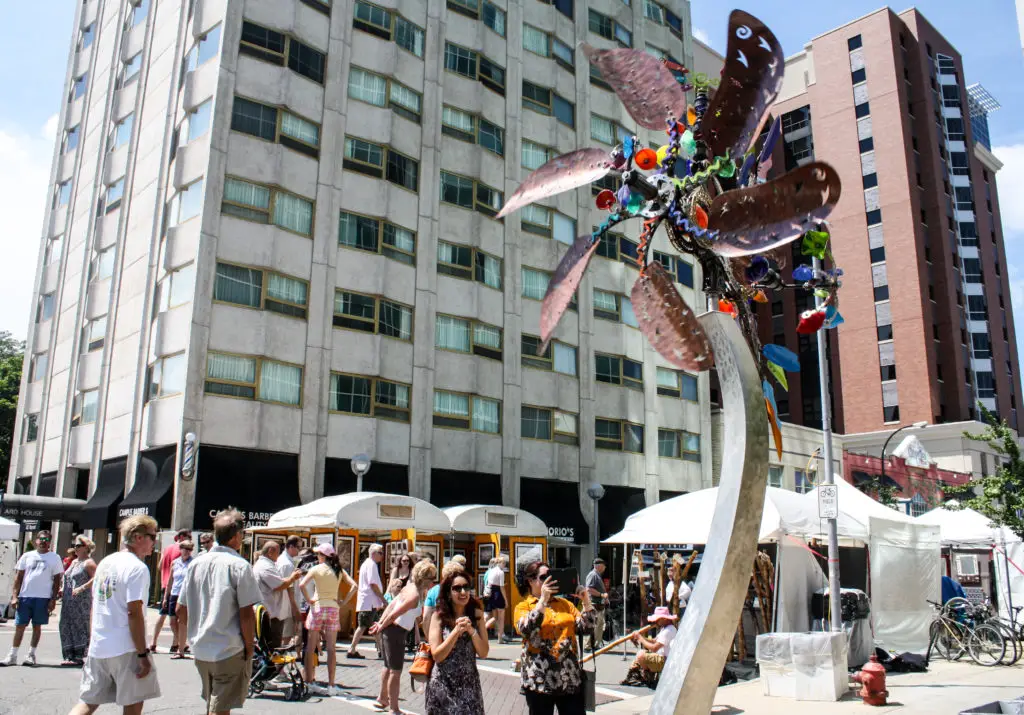 When To Attend The Ann Arbor Art Fair
For 2018, the fair runs Thursday, July 19, to Sunday, July 22. Through Saturday, the fair runs from 10 a.m. to 9 p.m., and it is open from noon to 6 p.m. Sunday.
I recommend going early to beat the crowds and heat. taking a mid-day break for lunch at one of the downtown restaurants that I recommend later in this post. Otherwise, I recommend going in the evening to peruse the fair, dine downtown, and listen to live music at one of the three entertainment stages. I also recommend visiting on Thursday, if your schedule allows.
Where To Park In Ann Arbor
If you choose to drive to downtown Ann Arbor, most of the nearby parking structures cost $15 per day. After 5 p.m., the rate is $7.
You can park for free at Briarwood Mall, Pioneer High School (601 W Stadium Blvd), or Huron High School (2727 Fuller Rd.) and then take the shuttle downtown. Shuttle rides cost only $3 round-trip and run from an hour before to an hour after the fair each day.
Where To Eat And Drink
Though food courts are located throughout the fair, I recommend getting respite from the summer heat at one of downtown Ann Arbor's restaurants.
My mom and I had a tradition of splitting salads and pizza at the Original Cottage Inn. Here are a few other restaurants in downtown Ann Arbor that I'd recommend around the art fair:
Arbor Brewing Company — Great options for vegetarians and craft beer drinkers!
Black Pearl — Seafood and martinis here, and I highly recommend the fish tacos.
Blank Slate Creamery — Beat the heat with a scoop of ice cream — it's all made in-house!
Blue Tractor BBQ & Brewery — The menu features barbecue with southern side dishes that you can wash down with craft beer, signature cocktails, or a selection of bourbon and whiskey!
Fred's — Light, healthy options here, and I recommend the smoothies.
Grizzly Peak Brewing Company — Another great spot for local craft beer and pub fare.
HopCat — 100 craft beers on tap, and you can't go wrong with Crack Fries!
Isalita — At this downtown Mexican restaurant, don't miss the guacamole!
Jolly Pumpkin Artisan Ales — Sour beer lovers, this is your brewery. Also recommend the pizzas!
Pretzel Bell — Highly recommend the blue burger and turkey & avocado burger!
Sava's — Quench your thirst with a lavender lemonade! I also recommend the bang bang shrimp, sweet potato latkes, and Sava's Greek salad.
Where To Stay During The Ann Arbor Art Fair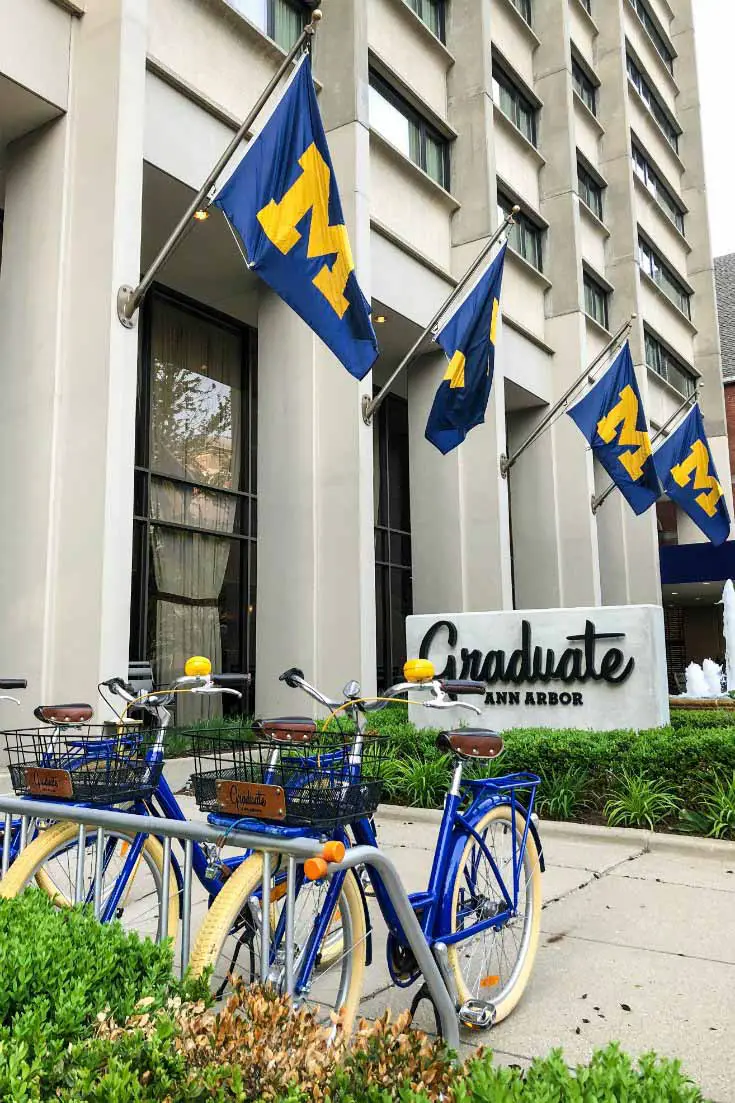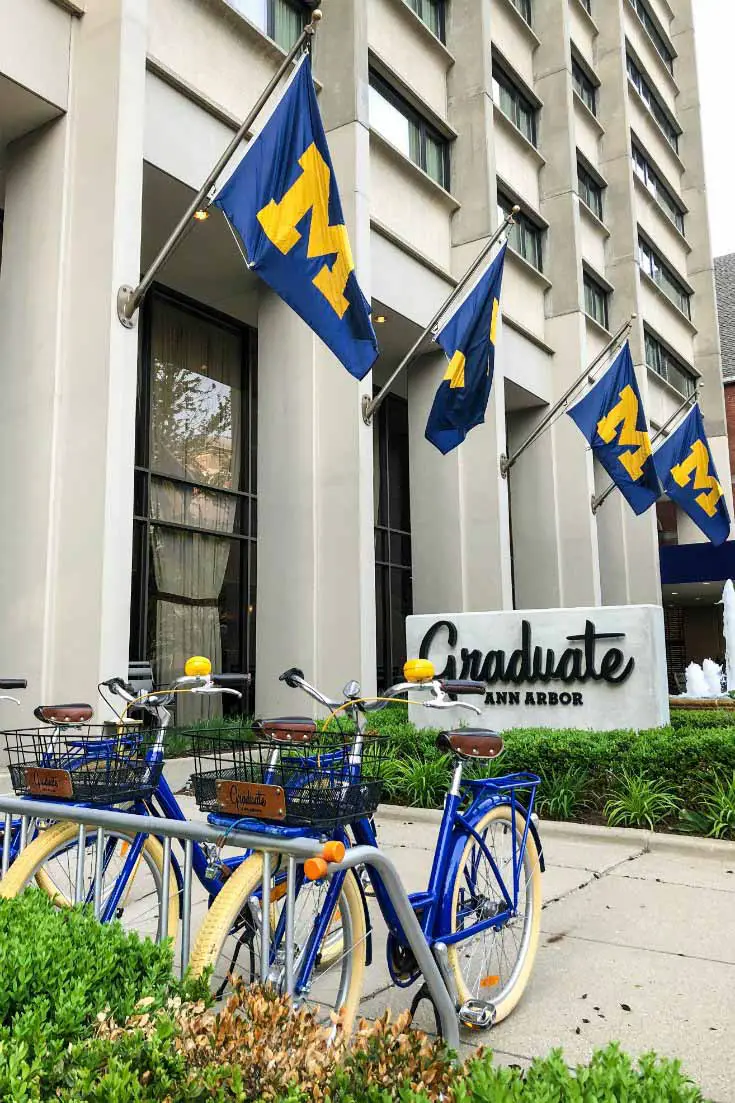 As a TripAdvisor and Booking.com affiliate partner, I may earn a small commission if you click on affiliate links in this post and reserve your hotel room. Of course, this is at no extra cost to you, and I only recommend hotels where I would stay myself. Also, I absolutely love the Graduate Ann Arbor, where I was hosted for a three-night stay in May 2018 by Destination Ann Arbor.
The Graduate Ann Arbor would be the ideal place to stay during the Ann Arbor Art Fair. Its location puts you right in the heart of downtown for a short walk to the art fairs. However, due to its prime location, this university-inspired boutique hotel books up very early for the weekend of the art fair. To stay at the Graduate Ann Arbor, I'd recommend reserving your room well in advance.
Since the Graduate Ann Arbor books up so quickly, I've also compiled a list of Ann Arbor hotels near Briarwood Mall, where you can catch the $3 round-trip shuttle to the fair.
Hotels Near Briarwood Mall Shuttle
A little further away:
Another Alternative: Airbnb
An alternative with more options in walking distance of the art fair is booking an apartment, home, or room via Airbnb. If you are new to Airbnb, you can receive up to $40 Airbnb credit toward a stay of $75 or more with my invitation link. These are some of my favorite listings in Ann Arbor near the art fair:
Before You Attend The Ann Arbor Art Fair
Save this to Pinterest for future reference!
Do you enjoy summer art fairs? Which one is your favorite?
The Epicurean Traveler is a participant in the Amazon Services LLC Associates Program, an affiliate advertising program designed to provide a means to earn fees by linking to Amazon and affiliated sites. When you click on a link or ad and purchase an item, I may earn a small commission that helps to sustain this blog. I thank you in advance for your continued support!